Our Story
The Helena Quinn mission is to create affordable luxury. Slip into a silk garment - your posture changes, your mood shifts and just like that, you feel elevated, empowered, and totally luxurious. Our hope is that this feeling goes beyond your home and brings you that same energy throughout your life. Helena Quinn's mission is to democratize that feeling (and the fabric) for every body.
Andrea Racey is the founder and designer behind Helena Quinn - named for her Grandmothers - who each embodied the elusive feminine balance of strength and gentility which she wanted to line to convey. With a talent for creating one-of-a-kind prints, an eye for color and trend, and years of experience in manufacturing, Andrea designs with the goal to make everyone feel confident and beautiful in their own skin.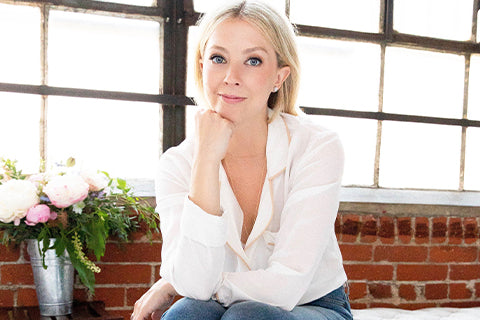 Our Mission
Helena Quinn silk is made from the finest and most durable silk fibers found in nature.
Our hand-produced silk does not use fossil fuel energy and is 100% recyclable, naturally flame retardant, and antibacterial, making silk a practical yet timeless fabric.
Helena Quinn silk is made of two natural proteins: sericin and fibroin, making it one of the most natural fabrics available. Our biodegradable material absorbs dye very quickly, so it doesn't require multiple dye baths, making it kinder to the planet.
Our environmentally-conscious silk prints are eco-friendly and colored with organic dyes, meaning that silk made by Helena Quinn contains no toxic chemicals, while also maintaining it the most buttery soft texture you'll ever feel. 
Contact us: